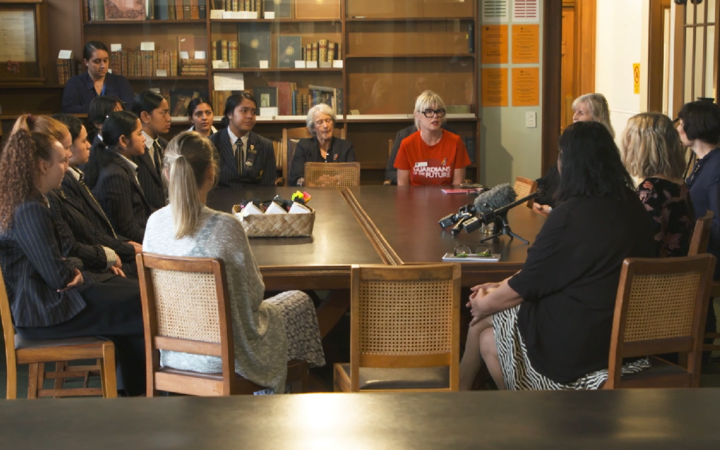 Ending period poverty: First products given at Auckland Girls Grammar School
 The programme allows students to deal with their periods without financial barriers. 
Associate Minister of Education Jan Tenetti was at the school to signal the start of the programme, which will cost $25 million over the next three years. 
She explained it had been a long process.
"There's been lots of groups that have been pushing for this for a long time, including me as a previous school principle in a low-decile school. This has been something that principals and interest groups have been pushing at for a long time." 
She said period poverty needed to be addressed to tackle attendance goals for schools. 
"It's important that we're looking at every factor that impacts upon attendance and one of those, of course, is periods. We've seen that, we've seen it from principals who have told us that, from families that have told us that and there's also data that can tell us that."
She was hopeful it would eliminate the idea that periods were "taboo".
"When I was young you kept it very quiet and you didn't talk about it and there was a sense of shame that went with it. We're in 2021, this is a time when we need to be celebrating the fact that 50 percent of our population menstruate." 
That "taboo" culture was something Head Girl Jane Fasavalu had experienced first hand. 
"[In] my culture, it's not a topic that we often talk about and I wasn't aware of this until I came to the school ... and I know, for my friends, if we don't track the menstrual cycle when you know it comes, it becomes an emergency. 
"I know a lot of my friends don't come to school as well when there's a shortage of supply or they feel too uncomfortable to go to the nurse." 
Other students were ecstatic about the new programme. 
"I always come prepared to school, I bring some pads and girls always come up to me and ask for some and, if I run out, then that's a big problem. Girls relying on other girls and teachers to bring isn't good, this will really help" said one year nine student. 
"Some of my friends don't even attend school, they say they don't have the products or sometimes they get bad cramps, it's really really hard" said another. 
"Some girls come to school with only one pad " said Deputy Head Girl Nirvana Fidow. 
So far, 1680 schools had signed up for the Access to Period products programme. This covered more than 300,000 eligible female students in schools across the country. 
Students at the school would dictate how they offered the products to try to eliminate the whakamā (shyness) that came when approaching staff or teachers. 
Options that were floated at the discussion suggested baskets outside the health centre and other areas like the physical education area so students could help themselves. 
The school wanted families to know the products would available for everyone that needed them - student or not. 
The products on offer by Organic Initiative, the Warehouse Group, Crimson Organic and U by Kotex had the tick of approval from students, though discussions indicated there was demand for more sustainable options like period cups and undies in the future. 
Original Article by Louise Ternouth for RNZ